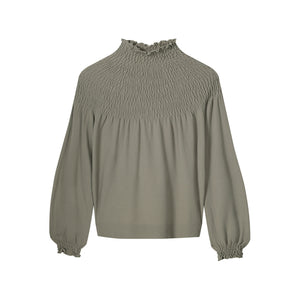 From our new collection, Summum, introducing our elegant and versatile shirred neckline knit blouse, now available in a beautiful mushroom color. Designed to effortlessly elevate your style, this blouse combines comfort and sophistication in one stunning piece.
The shirred neckline adds a touch of femininity and subtle elegance to the blouse, creating a flattering and eye-catching detail. It frames the face beautifully, making it a perfect choice for any occasion, whether it's a casual outing or a special event.
With its long sleeves and shirred cuffs, this blouse offers a chic and contemporary look. The ribbed edge bottom hem adds a polished finishing touch, ensuring a clean and refined look.
The versatile mushroom color complements a wide range of skin tones and pairs effortlessly with various bottoms, from jeans to skirts and trousers.
Fabric content coming soon.