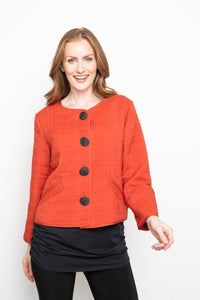 Introducing our stylish and versatile Liv Hip-Length Quilted Button-Up Jacket, a must-have addition to your wardrobe. Crafted with care and attention to detail, this jacket combines fashion-forward design with exceptional comfort.
The jacket features a hip-length cut, striking the perfect balance between practicality and on-trend style. It's designed to keep you warm and cozy during chilly days, while adding a touch of sophistication to any outfit.
One of the standout features of this jacket is its bold teardrop black buttons, which not only serve as eye-catching accents but also provide a secure and durable closure. These buttons add a touch of elegance and uniqueness to the jacket, elevating its overall aesthetic.  The quilted construction of this jacket  adds a distinctive texture, adding visual interest to the overall design.
Made from 100% Polyester