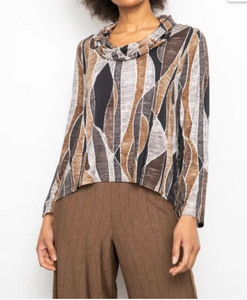 From our customer favorite line Liv, introducing our stunning Graphic Print Knit Cowl Blouse with bracelet length sleeves, a true fashion statement that combines style, comfort, and versatility. This exquisite blouse is designed to elevate your wardrobe with its unique print and thoughtful details.
Crafted from high-quality, soft knit fabric, this blouse offers a luxurious feel against your skin, ensuring all-day comfort. The cowl neckline adds an elegant touch, draping gracefully and framing your face beautifully. It's a flattering feature that adds sophistication to any outfit.
Featuring a captivating graphic print, this blouse is a work of art. The vibrant colors and intricate patterns create a visual feast for the eyes, making it a perfect choice for those who love to stand out from the crowd. 
Fabric Content (posting soon)