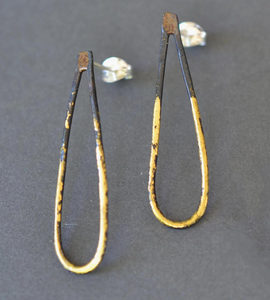 Contemporary teardrop earrings are fabricated in steel blackened with a heat patina and accented with 23k gold leaf and have sterling silver posts.
Measurement: 1.5 inches long,
Care:  Steel has been sealed to resist rust and protected the blackened color. While it is fine to wear steel jewelry while washing hands, doing dishes or in the rain but it is not recommended to wear in the pool or other activities that will expose the metal to water for an extended period of time. Make sure steel is thoroughly dry before storing.

Hand made with love in Raleigh, North Carolina