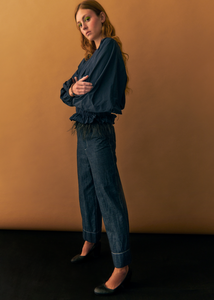 Introducing our new collection from German Designer Susanne Bommer, our Wide Leg Jeans offer a stylish and contemporary addition to your denim collection. These jeans combine comfort, fashion, and a touch of unique detailing to create a standout piece that effortlessly elevates your style.
Crafted from a medium-weight denim fabric, these wide leg jeans offer a comfortable fit with a hint of structure. The fabric strikes the perfect balance between softness and durability, ensuring that you can enjoy these jeans for years to come.
One of the standout features of these jeans is the raw edge waistband. This detail adds a touch of edginess and modernity to the overall design. It's a subtle yet eye-catching element that sets these jeans apart from traditional styles.  The zipper button closure provides a secure and convenient fastening, ensuring a snug fit around the waist. It adds a polished touch while maintaining the jeans' functionality.
Adding a pop of visual interest, the white seam hemline accent draws attention to the wide leg silhouette. This contrasting detail creates a striking visual effect and adds a touch of sophistication to the jeans. It's a subtle detail that elevates the overall look.
The wide leg design of these jeans offers a flattering and on-trend silhouette. It provides a relaxed and comfortable fit while exuding a sense of effortless style.
Experience the perfect blend of comfort, style, and unique detailing with our Wide Leg Jeans. 
Made from 100% Cotton