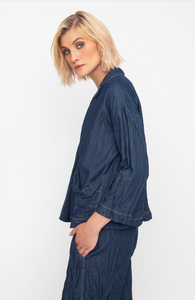 From our customer favorite line, Ozai our chic and versatile Women's Crinkly Chambray Button Front Blazer, designed to elevate any outfit to the next level.
Crafted from high-quality, crinkly cotton chambray fabric, this blazer boasts a unique texture  and contrast stitching that adds a touch of sophistication and style to your wardrobe. The button front closure creates a streamlined silhouette that flatters any body type, while the bracelet length sleeves are perfect for the warmer weather.
Perfect for both formal and casual occasions, this blazer can be dressed up or down depending on your mood and style. Pair it with a simple white tee and jeans for a casual, effortless look, or wear it over a dress for a more formal affair.
The lightweight fabric makes it perfect for transitioning between seasons, while the classic design ensures that it will never go out of style. 
So why wait? Add our Women's Crinkly Chambray Button Front Blazer to your collection today and elevate your style game to the next level! 
Made from 100% cotton denim.
Machine wash delicate cold and air dry.